The first thing that we do when we get into our car is put on our seat belt.  Making sure that we are safe and protected when we travel is important.  We all know what happens if we don't wear our seat belt and get in an accident.
*This post contains affiliate links and I will be compensated if you make a purchase after clicking on my links. Please see my
disclosure
.
Now what do we do if we take our dogs with us in the car?  How do we protect our dogs and make sure that they are safe in case of an accident.  Nobody plans on getting into an accident, but there is always a chance it can happen right.
The best way to ensure that our dogs are safe in the back seat is to get them their own dog seat belt.   Are all dog seat belts created equal?  No they are not!  What are my choices and how do I pick the right one for my dog.
In this post, I will provide the best dog seat belt reviews to help make your decision easier.
Why does my dog need a seat belt
If you have ever been in a fender bender or serious car accident, you know that wearing your seat belt likely saved your life.  Well what if your dog had been with you in the car?  Would they have been protected in the crash?
There are many reasons that a dog should wear a seat belt while sitting in the back seat.  Here are some of the important things that can happen to your dog if they are not securely fastened in the back.
Fly forward
Slide side to side in the back seat
Fall between the seat and the floor
Crash into your seat and cause you to become injured
Cause your dog anxiety or to become scared
Whiplash injury
You can become distracted by your dog
All of these things can happen in the blink of an eye.
What to look for in a good seat belt
When shopping for a dog seat belt for your dog, there are some key things you want to look for.  First of all, dog seat belts are not an expensive purchase.  You really don't need to spend anymore than approximately $20 CDN.   For this reason, there is absolutely no reason not to get one for your dog.
Now that you have decided to get a seat belt for your dog, where to begin.
Anytime we are shopping for something to put on our dog, we want to make sure that it is a comfortable fit.  So
Comfortable fit
Good safety rating
Easily adjustable
High customer ratings
Because every dog seat belt is not created equal, it is important to look at all aspects of each seat belt to really make sure that you buy the right one.

WOPET Pet Dog Booster Car Seat with Clip-On Safety – $26.99
from: WOPET
4 – Best seat belts
Designed for larger dogs and any dog under 15 lbs.   It has a high quality dual-safe bolt hook that is the most durable on the market.  Equipped with a 360 degree zinc alloy swivel that ensures your dog won't get tangled up.   The elastic buffer belt design will stop your dog for the risk of choking.   With an adjustable strap and built with the best buckle that will not slip or loosen up over time.   It is adjustable from 24.3 inches – 29.9 inches in length.  This way your dog will not move around when buckled up.
The seat belt clip is 0.83 inches wide and 1.57 inches which will fit most vehicles.  Just to be sure measure your current car buckle to ensure that it will fit.  Along with this seat belt strap, it is recommended to use a
dog harness
along with it for security and comfort.  A harness is a better choice than trying to attach it to a regular dog collar.
This dog seat belt comes with a 30 day free replacement or refund and a 2 year warranty with whole product life customer service.

Kurgo 01965 Direct to Seatbelt Tether Dog Seat Belt
The Kurgo dog seat belt is the most broadly sold dog tether on the market.  This keeps your dog restrained in the back seat while you are driving.  Attaching this to a dog harness, is also the way to get the best protection for your dog.
With a quick and easy click to install, all you need to do is connect it into your seat belt buckle in the back and you are ready to go.  The stainless steel buckle dog seat belt clip can hold 2000 lbs of force   This seat belt attaches to a harness or collar by either a carabiner or swivel option.  Integrates easily with existing car belting systems.
The tether is adjustable from 15 inches – 22 inches in length and makes it a universal size for large or small dogs.
It comes equipped with the Hassel-free Kurgo Lifetime Warranty.  This protects against any manufacturing defects if purchased from a licensed dealer.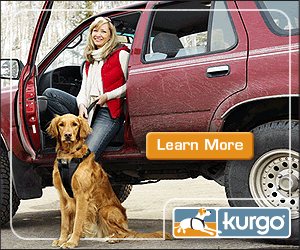 URPOWER Dog Seat Belt 2 Pack
Most dog seat belts are really meant for one dog in a easily adjustable size.  As your dog grows up, there size varies over that time.  Rather than constantly buying new ones to account for their growth, you should purchase my 3rd choice of dog seat belts.
The URPOWER seat belt is a one size fits all belt that is extremely adjustable.  You can adjust it from 24 inches – 31 Inches, that means that it can be used for a large or small dog.  This also works great for different size vehicles like if you have a smaller car you just shorten up the length.  On the other side of that, if you have a larger vehicle you can lenghten up the tether and your dog would have a bit more movement.
Made out of a very sturdy Nylon fabric, a stainless steel clip, a zinc alloy swivel snap and is anti-rust for longevity.  The elastic buffer design adds extra protection for your dog.
If you have any quality issues you have a period of 180 days to contact the company

My last choice is the Rypet dog seat belt.  Now this seat belt is a completely different style of seat belt. Instead of connecting to the vehicles seat belt system, it instead connects to the headrest.
The high quality nylon fabric seat belt is equipped with a zinc alloy swivel snap. The nylon strap is tangle free and quickly attaches to the headrest. Quality buckles and adjustable lengths, makes this a great option for your dog.  It will adjust from as small as 18 inches up to 30 inches.
This wonderful seat belt is also multifunctional in the way that it is can also be used as a regular leash. Just simply unclip the safety strap and away you go.
Dog booster seat
Now I know that this is a post about dog seat belts, but I couldn't end this post without talking about car booster seats.  They are a completely different option then a seat belt.   It offers is a more safe space for your dog.
You attach the bucket or booster to your 60/40 split back seat.  Most of them are built with metal supports for structural integrity, but are also easily collapseable.
They also come equipped with a seat belt tether that you use to attach to your dogs collar or harness.  This adjustable strap makes it easy to adapt the whatever length you need.
Booster seats for the most part are sized by how much your dog weighs.  On average these booster seats hold up to 30 lbs, but really are not meant for a dog much over 20 lbs.   A dog that weighs 30 lbs may fit the weight restrictions, but may be too big to actually fit in the basket, so keep that in mind.
Here is an example of a popular dog booster seat.  This one is also made by Kurgo and is the Kurgo Rover(TM) Booster Dog Car Seat.
Safety and car travel
Now that you have read my dog seat belt reviews, I wanted to just reiterate that it is important that we always protect our dogs while travelling with them.
When you start looking at which of these seat belts will best work for you, there are a few big things to consider.  Each dog owner has different needs for their dog in a good seat belt.
Start by the knowing the size and weight of your dog now and in the near future.  How often are you going to use the seat belt, is it just once in a while, or regularily.  The reason that it is important to know they things is to help fit your needs with the right seat belt for your dog.
Always look for good durability in the product itself, the ease of installing and removing the belt while also making sure it will fit your dog properly.  Does it safely and securely keep your dog in the back seat.  This is the most important factor in choosing a dog seat belt.
The number one question that gets asked in comments any time I post a product that requires your dog to wear, is how do you get them to wear that.  The answer is always the same, repitition, routine, reward and overall not giving up.  You need to be the parent as always, so stick with it and your dog will eventually wear it and be protected.  Your dogs safety in this case is at stake.
PROTECT YOUR DOG! SAFETY FIRST!
Best of luck on your dog shopping adventure.  I hope that you have enjoyed my dog seat belt reviews post and would love to hear any comments you have below.