If you are looking for the best indoor dog grass for your dog, then you are in the right place.  When it comes to lending a helpful hand, indoor dog grass is here for you and your dog.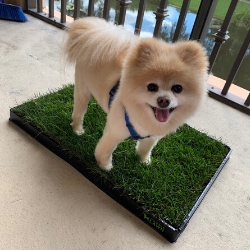 *This post contains affiliate links and I will be compensated if you make a purchase after clicking on my links. Please see my
disclosure
.
Dog parents have always been considered a special breed of people.  We go leaps and bounds to do everything we can for our fur babies.  Sometimes that means buying things that make them
happy
, which of course makes us happy. But sometimes, we buy things, to make ourselves happy.  Happy because we come across a helpful aid that makes our raising our dogs a bit easier.
Yes you heard me correctly there is indoor grass available in the dog market.  I am not referring to a slab of indoor/outdoor rug that you putt on for golf.  Nope.  I mean real grass that is like someone cut a piece of turf out of your front yard.  This sounds strange, messy and impossible, but it is a real thing.
Before I talk about how this is possible and how it works, let's first understand why and how the dog parents would use indoor dog lawn.
Why indoor grass
As I said, the dog market has been in the indoor grass business for more than 20 years.  Changing and evolving the products along the way.
Companies have continued to join in on this market and have made it the global entity it is today.  Just to give you an idea of how big of a market this product is, just one indoor grass company accounts for 11.5 million USD in revenue.  That is just one company.  But why is this dog product so popular?
The indoor grass market for pets is truly a product that solves a dog parents problem with their dog potty business. What kind of ways can indoor dog grass help us?
Here are some of the most common reasons people get indoor grass for their dog:
They live in an apartment
Have a senior dog
A dog with incontinence
No fenced backyard
Bad weather back up plan
Protect your real grass
Long work hours and can't be home on schedule
Just look at that list.  There are many great applications for using an indoor grass for your dog, that list proves it. Many times dog parents find themselves in a situation where they need a bit of help with their dog and potty breaks.
The 1st thing on that list is living in apartments.  Many dog parents live in multi dwelling locations that allow dogs, but just imagine if your dog gets up to pee in the middle of the night.  Getting dressed to go down the stairs or elevators to take your dog outside your building.  This is a lot of work and is very disruptive for sleep patterns.
Well how about instead of doing all of that, you just let your dog on your patio or balcony to their own patch of real grass.  Or better yet, you just direct them to the grass patch you have inside.  Either option will work.
This way they can quickly do their business and everyone can quickly get back to bed.  This can be used for puppies, dogs that can't hold it all night, senior dogs or just to keep them off your outdoor lawn.  No matter what application fits your, it is a huge time saver and it is so much less disruptive for everyone included.  A huge easy peazy solution.
So whether you are a busy at work and can't make it home, or have a dog that just needs a closer potty spot, this is the perfect solution.  You can use this indoor in the house, or outside on a patio or balcony.  Truly the coolest !
DoggieLawn
Now that we understand where the need for this product comes from, let's get specific.  Time to talk about one company, that is really mowing down the competition. HAHA!! I had to….!
DoggieLawn!!!  They offer top of the line real hydroponic grass patches.  Completely natural, fresh real grass.  The other really cool thing about this grass, is their is no dirt.  You heard me.  They call it "Soiless" grass.  It is not like the regular grass we are used to seeing with a big pile of soil underneath that is super heavy and very messy.
This grass is different from regular sod, in that it is made with durable matted roots and fertile soil.  The way this grass is developed, allows it to soak up any liquids without leaking or leaving an odor.  You can even water it, to keep it green and have it last longer, if it is being used outside.
Cleaning this up is a breeze.  When you are done using this patch of grass, you simply throw it in a compost or trash bin and start over with a new piece.
Quality is DoggieLawn's number one priority when it comes to their product.  They want you to feel that nice clean fresh feeling when their new patch arrives at your door.  This keeps people coming back and your dog so happy to have his own new potty patch.
How it works
DoggieLawn is a subscription service that is easy to get started.  All you need to do is pick the plan that best suits your dogs size.  You match his weight and size to the appropriate size of lawn patch.  These are the different sizes that you can choose from:

Standard (24 x 16″): For dogs under 15lbs.
Medium (24 x 20″): For dogs up to 30lbs.
Large (24 x 24″): For dogs up to 50lbs.
XL (24 x 48″): For dogs 40lbs and over or multiple dogs.
You then pick the frequency of the delivery that you want. The options are :
Once a week
Every 2nd week
Every 3rd week
Once a month
Your delivery schedule with depend on how frequently your dog uses the dog lawn.  Obviously if they use it every day, then you would want to change it more often.
As an example, a puppy pees way more often then an older dog, so to start you would want once a week or every other week.  Then once they get a bit older you could switch to something a little farther apart like 2 – 3 weeks.
Or maybe you are just letting your dog use it first thing in the morning, so you don't have to take them outside in your pj's.  Then there is the winter months.  Here in Canada, we can get pretty cold and their is nothing worse than having to take your dog out in -40 C.
Depending on your plan of use, then you would need to choose the plan accordingly.  The great thing with the subscriptions is you can change the frequency whenever you want.  It is a very flexible plan.  On average, people go with the delivery schedule of every 2 weeks.
But what if you just want to try it out and don't want to get a subscription?  Well you are in luck they also offer a one time basis.  That way you can see how you and your dog like it.
The prices range from $26 for the Standard, $29 for the Medium, $31 for the Large, and $34 for the XL.  All grass patches come shipped through Fedex Home Delivery to your door.  The shipping is free, which is even better.
Each patch arrives in a sealed box and comes with a set of disposable gloves to assist rolling the grass patch onto your tray container that you save and reuse for each patch.  You would need to buy this tray separately if you decided that you wanted to use it with your patch of grass. When your replacement grass arrives in its shipping box, you just put the gloves on to roll it out the new patch on the tray.

$5 OFF Your 1st Subscription Order
The grassy knoll
I know that you heard me say a many times, but a company that gives back, is a company that I want to give my business too.  DoggieLawn is a company that does just that.
For every subscription to DoggieLawn, they have partnered up with several rescue organizations to then give out a donation gift to a dog at a shelter that is in need.  They give dog toys, leashes, brush or collar.
As always, the best thing about a company that gives back based on your commitment to you buying something that you are buying anyway.  I love that model.  We may not always give back individually, but being able to do it this way just makes you feel good about your purchase.
At the beginning of this post, I talked about how indoor dog grass could be used very easily as an aid for helping us with our dogs.  The all natural and eco-friendly grass is truly a life saver.  Whether you are thinking of just giving it a one time try, or getting a subscription your life just got a bit easier.
Don't wait any longer to get started.
YOUR REAL GRASS DOGGIELAWN IS WAITING!